Specifications
| | |
| --- | --- |
| Material | Metal |
| Thickness | 9.5-10mm |
| Application | Pipe Fittings |
| Grade | BS, DIN, GB, JIS |
| Features | Easy To Use, Rust Free Nature |
Rapidgrip wrench
When using a pipe wrench of any size. a gap must be maintained between the shank of the hook jaw and the work piece. (Figure 3) This permits the two gripping points (heel jaw teeth and hook jaw teeth) lo produce the gripping action of the wrench. Allowing the shank of the hook jaw to contact the work piece greatly reduces the gripping action and can cause slippage. It may also result in the failure of tie hook jaw. (Figure 4)
Compound Leverage Wrenches
Mount trunnion on pipe dose to treads, with shankd Pun-nion pointing towards the threads as shown in Ague 6A. %litho:liner pipe, hook inb ears& trumionand secure' tighten with chain screw handle.With wrench head property adjusted fa work piece size (maintoingap between hock jaw shank and woik piece), place the end of the wrench handle aver the shankof the trumion. Place tiewrench head on the work piece. Secure the wrench handle b tie trunnion shark with fiscal& pin.(Figne6B)
Details
| | | |
| --- | --- | --- |
| Pipe Wrench Size | Suggested Pipe Size Range | Maximum Pipe Size |
| 6" | 1/8" – 1/2" | 3/4" |
| 8" | 1/4" – 3/4" | 1" |
| 10" | 1/4" – 1" | 1 1/2" |
| 12" | 1/2" – 1 1/4" | 2" |
| 14" | 1/2" – 1 1/2" | 2" |
| 18" | 1" – 2" | 2 1/2" |
| 24" | 1 1/2" – 2 1/2" | 3" |
| 36" | 2" – 3 1/2" | 5" |
| 48" | 3" – 5" | 6" |
| 60" | 3" – 6" | 8" |
Figure 3 - Maintain Gap Between Hook Shank and Work Piece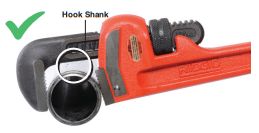 Make sure the work piece is stable and well supported to prevent tipping and falling during use.
When using a pipe wrench of any size. a gap must be maintained between the shank of the hook jaw and the work piece. (Figure 3) This permits the two gripping points (heel jaw teeth and hook jaw teeth) lo produce the gripping action of the wrench. Allowing the shank of the hook jaw to contact the work piece greatly reduces the gripping action and can cause slippage. It may also result in the failure of tie hook jaw. (Figure 4)
Figure 4 -Wrench Too Small For Work Piece, Hook Shank Touching Work Piece.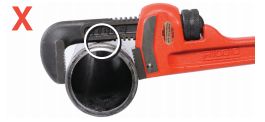 Adjust The hook position by rotating the nut as needed. Wench should be square to the pipe. Do not use with the wrench at an angle to the pipe.
Looking for "
Ridgid Pipe Wrench

" ?